Cycling has many fans in Flanders, but they are ageing rapidly
The VUB research group SPLISS (Sports Policy factors Leading to International Sporting Success) has analysed the social impact of top-class sport, and the impact on Belgian society of cycling in particular. They found that 17% of Belgians are cycling fans, with slightly more male fans than female. Cycling is particularly alive in Flanders. More than half (54%) of cycling fans are older than 55 while only 16% are younger than 34.
Cycling is Belgians' second favourite Olympic sport: 43% say they follow cycling on TV, radio or online. Only athletics (49%) is more popular."Cycling is especially popular among Belgians over 55. Only 16% of cycling fans are younger than 34. Among them, athletics remains the most followed sport. In contrast to older Belgians, this younger age category follows more football in the media. Cycling takes third place in this age category," says SPLISS.

The research
From May to November 2021, 2,000 Belgians were asked each month about the five Olympic sports (from a choice of 48) in which they would most like to see success. Every month, cycling came second, after athletics. Football, tennis and basketball complete the top five.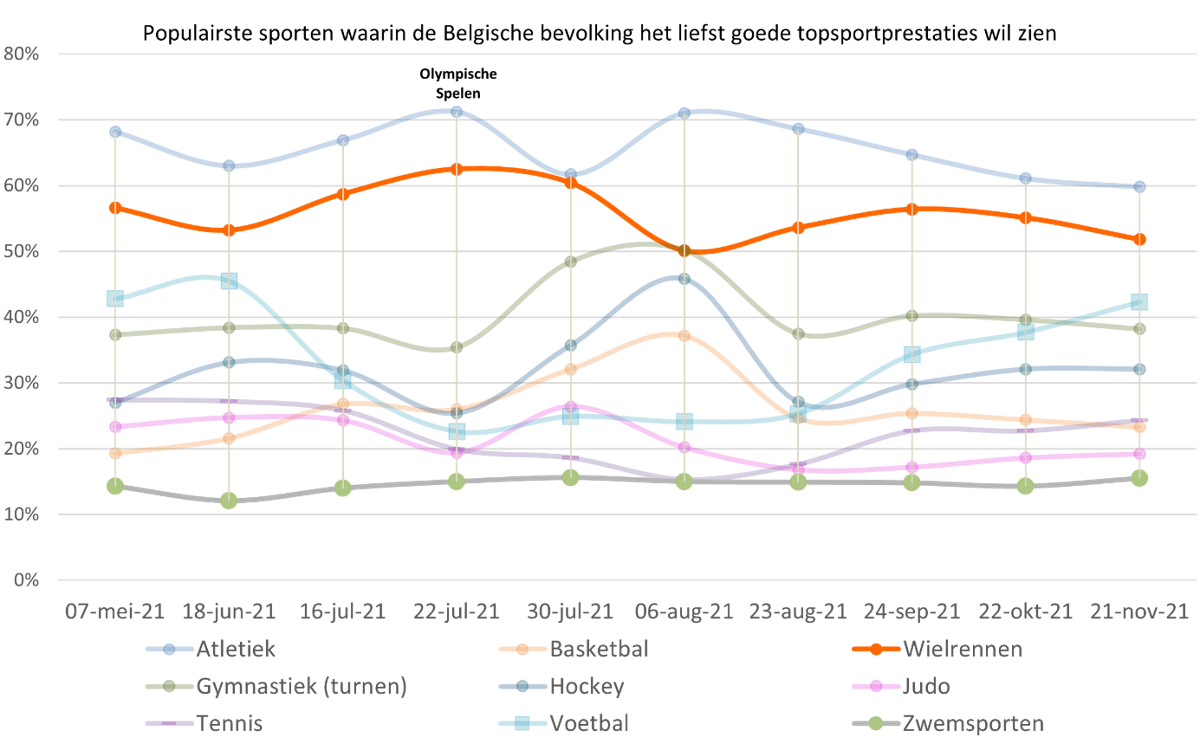 Interest in cycling was particularly high in 2021 during the Tour de France and at the start of the Olympic Games. The peak came when Wout van Aert won the silver Olympic medal. Van Aert is the third most popular Belgian athlete, after heptathlete Nafi Thiam and gymnast Nina Derwael.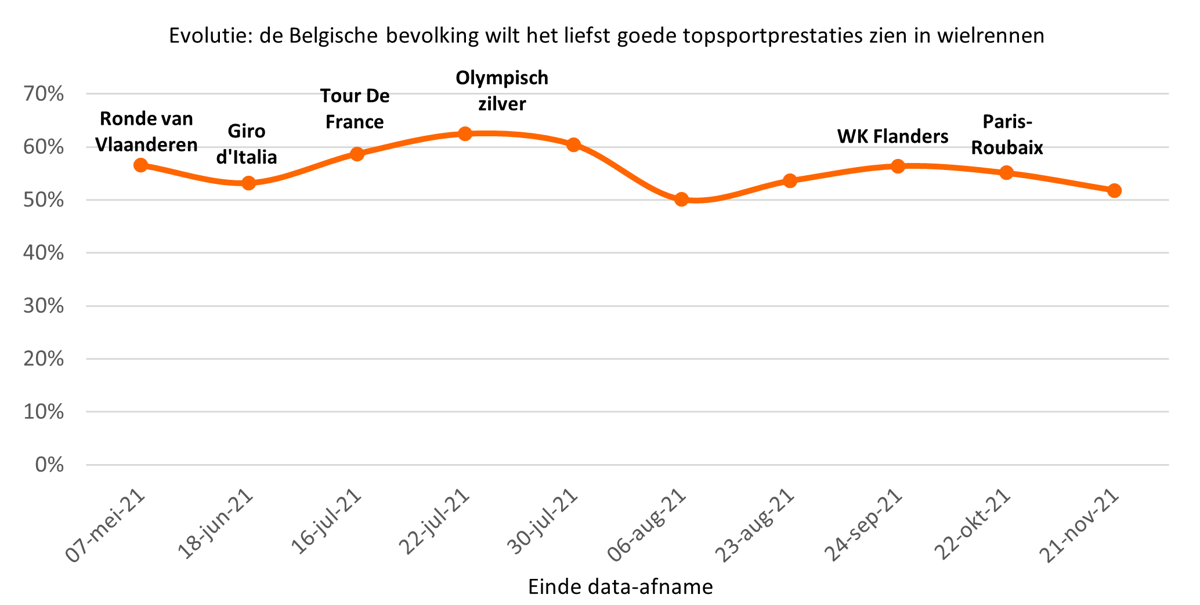 Cycling fans
The big cycling fans, of course, put cycling at number one. The analysis by SPLISS, part of VUB's Faculty of Physical Education and Kinesitherapy, shows that on average, 17% of Belgians characterise themselves as cycling fans.
These cycling fans consist of slightly more men (58%) than women (42%) and are mainly from Flanders (83%). More than half the group are over 55 (54%).
The achievements of our top athletes bring plenty of joy to supporters. They experience pride and happiness, and believe that high-quality performances have a good influence on our country and inspire young people to do more sport.
In short, cycling goes far beyond mere competitions and has an impact on society.
The future of cycling
Despite the importance of cycling, opinions are divided on whether to invest more in the sport.
15% of Belgians want the government to continue to invest in cycling, for three main reasons: 1) cycling is thriving and there is a lot of interest in it; 2) cycling has young talent that can become successful in the long term; and 3) it is a popular sport with a fine tradition and history.
Conversely, 6% do not think it necessary for the government to invest further in cycling. They argue that cycling is a big, well-known sport that does not need extra support, and that it has enough money to function self-sufficiently.
About the VUB research group Sports Policy factors Leading to International Sporting Success (SPLISS)
The Topsport als Middelen (Elite sport as a societal asset) project, with the Flemish, Brussels and Walloon policy partners, examines public support for and social outcomes of top-class sport.
This is done by gauging support for top-level sport, while examining whether elite athletes can be effective and inspiring role models, in order to encourage top-class sport as an asset. Researchers also study whether people in Flanders consider that events in certain sports have an influence on the social impact. These findings provide policymakers with more insight into how and where support for top-level sport policy can or should be created and how social effects can be addressed.
The research is being carried out by the VUB research group Sports Policy Factors Leading to International Sporting Success (SPLISS), a worldwide network that benchmarks and advises on top-level sports policy. It is coordinated by its founder, Prof Dr Veerle De Bosscher, professor of sports policy and management in the VUB research group Sport and Society. Her expertise lies in policy evaluation, effectiveness and benchmarking of top-class and youth sport policies and competitiveness. The SPLISS project team is completed by Dra. Kari Descheemaeker, Dra. Eva Gielens and Aline Van Roey.
More information about SPLISS.
Contact Sicco Wittermans
​Spokesperson Vrije Universiteit Brussel
​
​Phone: +32-2-6292137
​Mobile: +32-473-964137
​[email protected]