'Handbag ai funghi': VUB team creates first sustainable handbag from mycelium leather
A team of biologists, bioengineers, architects and product developers at the Vrije Universiteit Brussel has developed the first fully bio-based and biodegradable handbag based on mycelium. Mycelium is the root structure of fungus and forms a tight network of white filaments in the soil, on wood or other organic material. By growing mycelium in lab conditions, a material can be created that can be processed into a substitute for animal or synthetic leather.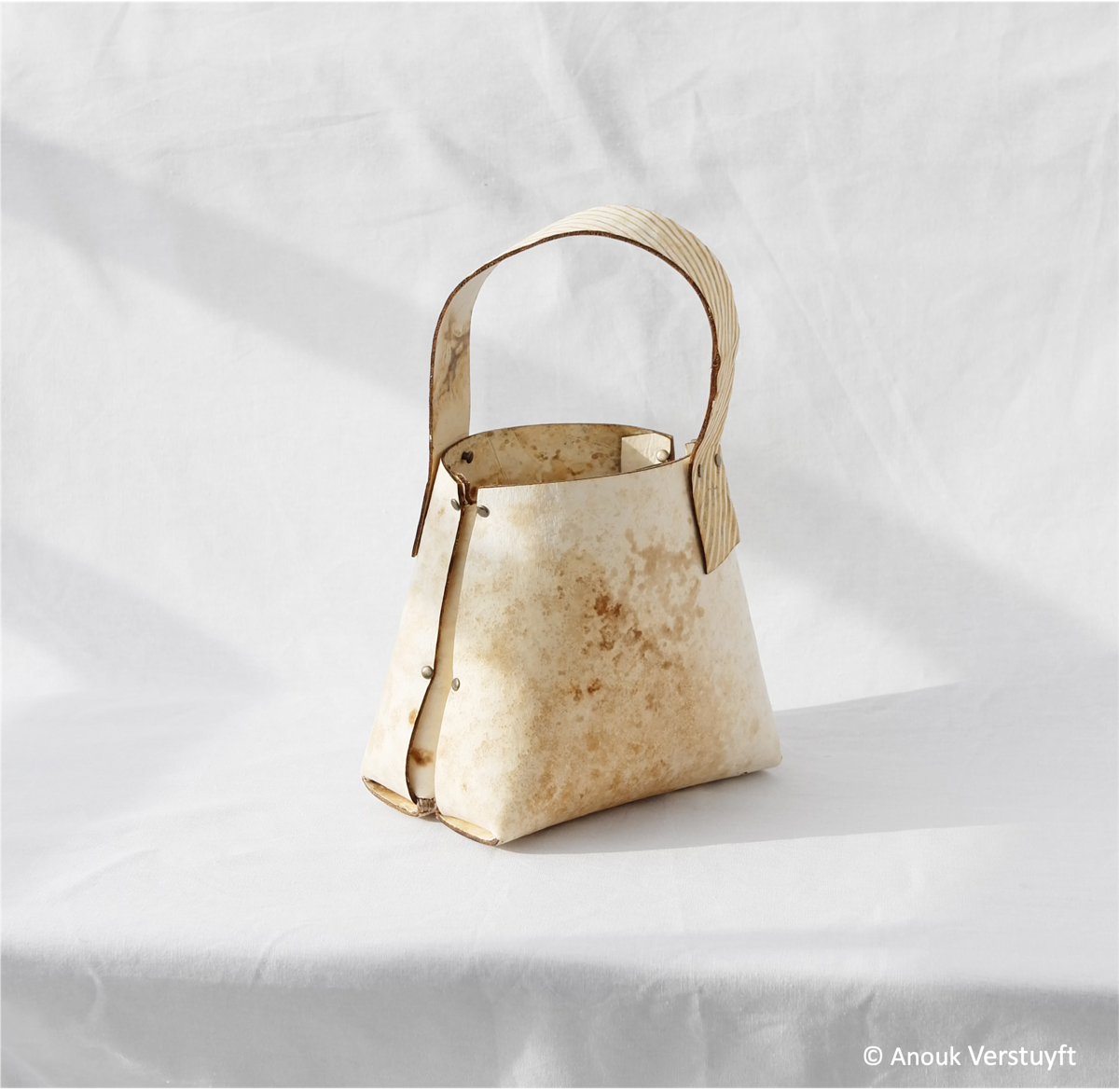 For his research, VUB PhD student Simon Vandelook, financed by the Research Foundation – Flanders, gathered various fungal spores from the Sonian Forest. He grew them in a petri dish, before selecting those with the tightest network of mycelium filaments. The filaments are able to grow on a wide range of organic waste or by-products from agriculture and industry. The material obtained is also biodegradable, creating a circular process. "Part of the research was about optimising conditions for the growth of the mycelium and characterisation of the obtained biomass to get the strongest material possible," says Vandelook. In total, it took about two weeks to produce enough material for a handbag, for example, making it a sustainable and relatively fast process.
Mushroom-based leather is nothing new, but the material is not yet strong enough or of sufficient quality to be used in clothing, shoes, bags or chairs. For that purpose, it's often combined with unsustainable materials like plastic. The VUB team developed a method that can provide reinforcement with bio-based components, significantly improving the product's durability. The research resulted in the development of the first prototype of a handbag that is 100% sustainable. This called on the work of product designer Anouk Verstuyft, who used a laser cutting and engraving technique to create the prototype: "We're only at the beginning of a journey of further research and development; exploration could be done to add colours to the material, for instance."
"That's right," say Prof Elise Vanden Elsacker and Prof Eveline Peeters: "These results are a starting point for us to work with industrial partners to test other potential applications." "Currently, we kill the mycelium by heat treatment, but in time it could even be kept alive, making self-repair a possibility. For now, though, this is something for the future, which we're working towards with the recently launched FUNGATERIA European project."
Contacts
Simon Vandelook (mycelium research)
Anouk Verstuyft (product development & design)
Prof ​ Dr ​ Elise Vanden Elsacker
Prof Dr Eveline Peeters
Fungateria: fungateria.eu
Koen Stein Perscontact wetenschap & innovatie